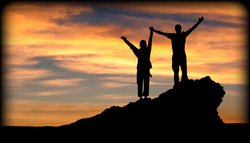 Recently I began reading the book InSide Out Coaching: How Sports Can Transform Lives by Joe Ehrmann. In his book, which I suggest to everyone, not just coaches, Joe Ehrmann speaks about transactional coaching as opposed to transformational coaching. One method (transformational) seeks to build an athlete's confidence, character, sense of team and sportsmanship. The other (transactional) exist purely for the benefit of winning and is based on a quid pro quo relationship between the coach and his players.

Transactional coaching is founded in pure talent acquisition. Coaches search for the biggest, fastest, and strongest athletes in order to win. The end goal is to obliterate your opponent, raise the trophy, and make the coach look like a phenomenon. These individuals live vicariously through their athletes and are most often telling these young men and women that toughness, desire and a singular focus on winning is how you succeed. Nothing else is as important as the win! In this framework many young people become collateral damage. Broken pieces of a bigger machine that are no longer needed. Many times they are replaced, suffer injuries, or simply break down from the stress of endless competition. If these players do not win they are often called soft, told that they don't work hard enough, or that they are just not the right fit for an elite organization. These are the youth that feel the game that they love has betrayed them. They began to believe that for some reason they are not at the level they should be and are unwilling to place themselves in an unwinnable situation any longer. These players' lives have become devoid of all empathy, compassion, understanding, and validation from an individual that in many cases they hold more respect for than their own parents. As Ermann states in most unapologetic terms, "these coaches simply pound wins out of their players, they are driven by the fear and shame of failure. They vent their aggression through competition and base their self worth on wins, many times at the detriment of their families and friends... as coaches we must get past tying our self worth to the scoreboard."

Transformational coaches on the other hand seek to build players through character, sportsmanship, teamwork, humility, unity, and pride. With transformational coaches, players are taught that competition is something to be valued and honored. Winning is not the end goal, but the understanding that when in battle you respect your opponent and his ability, that when the dust settles you can admire them for what he or she has done, win or lose. In this type of atmosphere players learn to handle defeat and success with honor. They build the intrinsic motivation needed to succeed in life. These are qualities that young men and women must acquire in order to be truly successful. Through this transformational coaching style, players self esteem and inner strength is built on a solid foundation, which they can utilize not only throughout their sports careers, but their educational and professional careers as well.

To put things in their most simple form, we as coaches and parents should strive to build a sense of competition that teaches sportsmanship, respect, civic duty, charity, and leadership, not just the will to win. As I have stated many times to my athletes, "we learn just as much from losing as winning." The real question is how we put these lessons to practical use.